DECKS AND FENCE BUILDERS CALGARY ALBERTA
Decks and Outdoors Calgary
We offer best deck and fence building services throughout the Calgary area. With a highly experienced team no job is too complex, we've seen and done it all. Use our contact form or give us a call to get a free quote today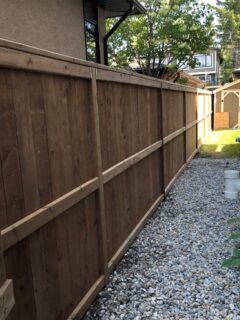 I was very pleased with Lifestyle Renovations on the replacement of my deck. He was always on time, gave me a very reasonable quote, was pleasant to talk to and handled any small issues that occurred.
Deck Building Services in Calgary
Lifestyle Reno is a leading name when it comes to deck building services in Calgary. We specialize in building high-quality decks, fences, sheds, carports, gates, and other outdoor wooden constructions in Calgary. We pride ourselves on pursuing the most advanced and modern trends in deck ideas such as expansive outdoor bars, fiberglass pools, relaxing hot tubs, fire-pits, comfortable outdoor family rooms, luxurious gardening centers, etc.
Our focus is on building decks, fences, and other garden structures that not only look awesome but are an excellent value for the money and made to last. Our decks last for many years because of our superb craftsmanship, quality materials, and building skills.
The most significant benefit of a gorgeous and functional deck is extending the living space to the outdoors. There is no more satisfying feeling than stepping outside and still have full comfort. A beautiful, functional, stunning deck is no longer a splurging but rather a requirement; it is a way of life.
It is always beneficial to consider the stairs, pathways, seating, shade patterns, indoor accessibility, and views while determining the deck's positioning. You should carefully consider how you would like your dream deck to function to create a pleasing ambiance. If it is built too big, it can be overpowering, whereas if it is built too small, it can be too crowded. We help you in all these aspects to create a deck that can provide long-lasting pleasure.
Lifestyle Reno is your one-stop for deck building services in Calgary right from designing to installation. We have years of experience to make the best use of the space to create a fabulous deck. With our innovative design ideas, we can bring new life to your deck.
Best Fence Building Services in Calgary
Lifestyle Reno is also well known for providing the best fence building services in Calgary. Most people do not just want a standard fence; they want much more. We provide them the options according to their needs. We offer a wide range of fencing such as pergolas, chain link, acoustic sound fences, arbours, custom carpentry, sound barrier, ornamental iron, wooden, and Japanese lattice fencing.
Lifestyle Reno has been designing and building residential, commercial as well as industrial fencing for years. We believe that no job is too small or too big. We will provide you the best fence building services that you need and deserve at affordable prices.
Get Your Quote Today
Give Lifestyle Reno a chance for amazing deck and fence building services in Calgary.