Kitchen Renovations Calgary
Whether you're an executive chef or day to day cook, we can design and provide a kitchen renovation based on your functionality.
We found that Greg and his team were quick and thorough in generating the initial design and quote. The quote was very accurate and detailed. When we chose to do upgrades they got back to us quickly with the cost of those upgrades so we could make informed decisions in a timely manner.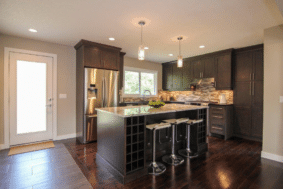 Kitchen Renovations Calgary
Do you need to upgrade your outdated kitchen style?
Whatever your kitchen plan is, Lifestyle Renovations is here to tackle and complete your kitchen renovation the best way possible.
We have transformed numerous homes in Calgary and made many homeowners happy and satisfied.
Why Invest in Remodeling Your Kitchen?
A kitchen remodel enables you to maximize kitchen space, upgrade functionality, and improve the look and feel of your kitchen space. Not to mention it can significantly increase the value of your home.
The kitchen serves as the heart and soul of your home. Family time and many important memories are formed in this special part of the house. Thus, it makes sense to make sure that this section of the house is given the attention it deserves. Lifestyle Renovations is committed to helping every home make their kitchen a favorite gathering place in the house where high-quality cooking and dining happen.
Lifestyle Renovations is one of the most sought-after kitchen remodeling companies in Calgary. We have transformed multiple homes and have satisfied countless clients with our solid expertise. Allow us to transform your space next.
How It Works
If you work with Lifestyle Renovations, you will receive full support from start to finish.
Expect the process to be as smooth and efficient as possible.
1. Initial Consultation
Our interior designers will get in touch with you to discuss your vision, budget, plans, preferences, and other details. We'll also assess your existing kitchen space and style. We will gather more data such as your preferred color palette, style preferences, how you interact with your kitchen, and other specifics. The goal of the initial consultation is to establish the general theme and approach that we should be going for.
2. Measurements
As soon as the theme is established, we'll begin measuring your space from your kitchen cabinets to your countertops to the islands and backsplashes. We will leave no stone unturned, and we'll make sure that your brand new kitchen is custom built to perfection. The goal is to make it easy for you to clean and cook in your kitchen while making your space safe for pets and children and cozy for the entire family.
3. Plan and Layout
We will lay out the kitchen according to the measurements acquired and the kitchen designs established. We will show you the recommended placements for the sink, countertops, oven, island, custom cabinets, and other kitchen elements. We will do our best to come up with a plan and layout that suits your exact needs and preferences.
4. Finishing Touches
We will do the finishing touches with great attention to detail. We'll make sure that the finished product is on point and brings out that 'wow' factor that pleases the whole family and your beloved guests. We'll look into the finer details like cabinet door handles, accent colors, lighting arrangements, faucet design, etc. Every corner of your new kitchen will look like it's cut out from a lifestyle magazine.
We will keep you engaged and involved throughout the design process.
Together, let's make the best home renovations come to life.
Why Choose
Lifestyle Renovations
Lifestyle Renovations makes sure that every project is completed successfully and beautifully. We take pride in the following:
Please find helpful some of excellent information that we curate to inform and educate you: