Home renovation projects can be a great way to update and improve your living space. If you are looking to increase the value of your home or maybe you want to create a more comfortable and functional environment for you and your family, renovating your home can offer a wide range of benefits. We will review a few of the benefits of home renovation.
Benefits of Home Renovation
Increases Home Value
One of the most important benefits of home renovation is that it can increase its value. Whether you are planning to sell your home soon or not, making improvements to your property can significantly increase its resale value. This is true if you focus on high-impact spaces like your kitchen, bathrooms, and outdoor living spaces.
Renovating these areas can make your home more attractive to potential buyers and create a higher sale price. Even if you are not planning to sell your home anytime soon, increasing its value through a home renovation can give you more equity and a better financial standing.
Improves Functionality and Comfort
Renovations can improve the functionality and comfort of your living space. For example, if your family has grown, you may need to add an extra bedroom or bathroom to accommodate everyone. If you work from home, you may want to create a home office that provides you with a comfortable and functional workspace. A house renovation can create a living space that meets your specific needs and enhances your overall comfort.
Reduces Maintenance and Energy Costs
A home renovation advantage is that it can improve energy efficiency. With rising energy costs and increasing concern for the environment, homeowners are looking for ways to reduce their energy consumption and save money. When renovating your house, you can install new energy-efficient appliances, insulation, and windows that can help reduce your energy consumption and lower your monthly bills.
Improving energy efficiency can also increase the comfort of your home by regulating the temperature and reducing drafts. This can lead to a more comfortable living space, and you'll feel good knowing that you're doing your part to protect the environment.
Allows You to Personalize Your Home
Personalize your living space and create a home that reflects your unique style and personality with a home renovation. Whether you want to update your decor, add a new color scheme, or create a more open and inviting layout, home renovation offers endless possibilities for customization. By working with a professional contractor or interior designer, you can create a space that truly feels like home.
Enhances Curb Appeal
Renovating your home can also enhance its curb appeal, which can have a significant impact on the value and appeal of your property. By updating the exterior of your home with fresh paint, new landscaping, or a new front door, you can create a more inviting and attractive space. This can make your home stand out in your neighborhood and impress visitors.
Create a positive first impression for potential buyers by upgrading your curb appeal if you are planning to sell your home in the future. This can help attract more potential buyers and potentially lead to a faster sale.
Is it time to do a home renovation?
An obvious sign that it's time to renovate your home is if it's starting to look outdated or worn. If your home's interior or exterior has not been updated in years, it may be time for a fresh coat of paint, new flooring, or even new fixtures. Renovating your home can help bring it up to date, giving it a modern and fresh look.
Another sign that it's time to renovate your home is if it's no longer functional for your needs. If you find yourself constantly rearranging furniture or struggling with limited storage space, it may be time to consider a renovation project. Whether you need to create more storage space or add a room to accommodate a growing family, a renovation can help make your home more functional and comfortable.
If you're planning on selling your home soon, a renovation can also help increase its value. Updating your kitchen, adding a bathroom, or simply giving your home a fresh coat of paint can help make it more appealing to potential buyers. Additionally, a renovation can help you sell your home faster, as it will be more attractive to buyers.
If you're simply tired of your home's current look, a renovation project can help you fall in love with your home again. By giving your home a new look and feel, you'll be able to enjoy it more and feel proud of your space.
In conclusion, renovating your home can provide numerous benefits, from increasing its value and improving energy efficiency to enhancing curb appeal. Whether you're looking to sell your home soon or simply want to create a more comfortable and attractive living space, a house renovation can help you achieve your goals. Start planning your renovation project today and enjoy the benefits of a newly renovated home.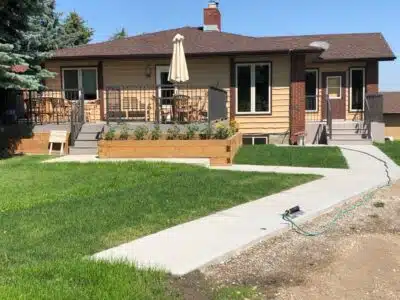 At Lifestyle Renovations, we understand that renovating your home is a significant investment, both financially and emotionally. With our team of experts in the field of home renovation, we are confident that we have the skills and experience necessary to deliver exceptional results that meet your unique needs and budget. We are committed to providing each of our clients with personalized attention and a customized approach to ensure your vision is brought to life. When you hire us, you can rest assured that your renovation project is in capable hands and that you will love the final results. So why wait? Contact us today to learn how we can transform your home into your dream space.